---
Choose Add-on
extras
Single Prong Spring Bar Tool - Advanced
+$15.00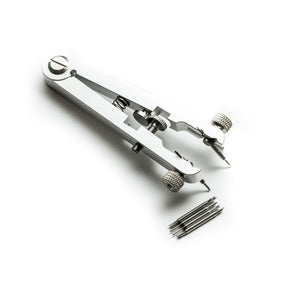 extras
Two Prong Spring Bar Tool - Advanced
+$40.00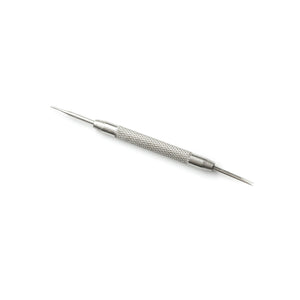 extras
Single Prong Spring Bar Tool - Basic
+$3.00
---
Chat with us now
Introducing another new peak in comfort and style: our FKM Rubber Cut-To-Size ("CTS") rubber watch strap. Customisable to fit your wrist perfectly and secured with a sleek leaf-spring deployant clasp, it is also available in a range of colours to suit your personal style. This strap is not only comfortable and durable, it is also truly waterproof and easy to maintain. Whether you're hitting the gym, or dressing up for a night out, this strap has you covered. 

Each purchase will include the following:
1 set of CTS straps (2 long straps of maximum length)

1 spare CTS strap (1 side)

1 CTS Deployant Clasp
Guide to cutting and wearing the strap.
**Note: As installation of this clasp requires the removal and installation of a non-quick-release spring bar, we would recommend the purchase of a Single Prong Spring Bar tool if you do not already have one.**
Specifications

Strap Style: Cut-to-Size (CTS)
Strap Thickness: 4.0 to 3.3mm

Clasp Type: CTS Deployant Clasp
Find Your Lug Width
If you're looking to purchase a strap for your watch, you will need to know the lug width of your watch. Lug width refers to "A" in this schematic below.
There are two ways to find out the lug width of your watch.
Firstly, you can Google "<watch brand and model> lug width" and see if there is an answer from the brand's website, or some other websites.
Alternatively, you can simply take a ruler and measure the lug width directly on your watch.
Lug widths are typically in whole numbers, and while the most common lug widths are between 18-22mm, they can go down to 8mm or up to 32mm even. Our ready stock straps are available in 16mm, 17mm, 18mm, 19mm, 20mm, 21mm, 22mm, 24mm and 26mm. If you need other lug widths, you can have it custom made.
You will then need to purchase a strap of the same lug width. For example, if your watch has a lug width of 20mm, you will need to purchase strap with a width of 20-16.
Note: Our Widths typically have two numbers, for example 20-16. The first number (20) refers to the lug width ("A" in the schematic above). The second number (16) refers to the buckle width ("B" in the schematic above). You just need to ensure that the first number matches the lug width of your watch. 
Also available in these colours
Red CTS Rubber Strap for Holidays
Loving it! 2nd CTS rubber strap, bought the 1st gen last year and still love it! The new clasp with extra micro adjust and just the overall bigger size of the clasp has me loving it even more! Went with Red to add a holiday pop to my Longines Zulu Time and I can't take my eyes off my wrist! Great job once again Delugs!