Black Tissot PRX Chronograph CTS Rubber Strap
---
Add-on
extras
Single Prong Spring Bar Tool - Advanced
+$15.00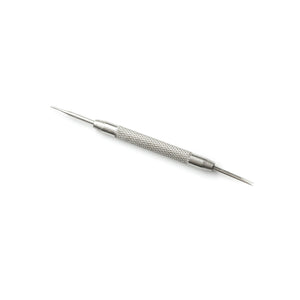 extras
Single Prong Spring Bar Tool - Basic
+$3.00
---
Chat with us now
Do you own a Tissot PRX Chronograph and wish it came on a rubber strap, in addition to the metal bracelet? Well, wish no more! Pair your Tissot PRX Chronograph with a Cut-to-Size (CTS) FKM rubber strap for a totally new look and feel.
The PRX Chronograph CTS Rubber is customisable to fit your wrist size perfectly, and is secured with a sleek leaf-spring deployant clasp. It is available in a range of colours to pair with the different dial colours. This strap is not only comfortable and durable, it is also truly waterproof and easy to maintain.

Each purchase will include the following:
1 set of PRX Chronograph CTS straps (two sides of maximum length)

1 CTS Deployant Clasp (18mm width)
Specifications

Guide to wearing and cutting the strap.

Note: Delugs is not affiliated with other watch brands such as Tissot, and the strap was developed independently by Delugs. Intellectual property rights of watches, visuals, trademarks, names and logos belong respectively to each related watch brand.
Also available in these colours
Love it
Got it yesterday and loving it!! Giving it 3 stars coz having a small issue of the lug pins on the watch case keep coming off. Any advice? Or fix?
Great Strap
This is the 3rd PRX strap I bought and the quality is first rate. Delivered from Singapore to Michigan USA in 4 days. Amazing. Highly recommend Delugs. Have 10 straps from them.
Not as expected!!
The strap is ok. the deployment clasp looks good..but the spring bars are terrible. Apparently they used to have a dbl quick release spring bar juat as the PRX comes with but the decided to cut costs and go with a cheap one sideed quick release spring bar and not disclose that info. its exptremely difficult to install with the tiny lug width that the integarted bracelet has on the PRX chronograph. For a $185 USD strap I am extremely disappointed. I thought it would be of much better quality. Dont purchase this....wait for Tissot to make their own or for another company to step up and do this right.
Great looking strap
Very pleased with the strap for my PRX Chronograph. Looks great. A bit fidly to get the spring bar locked in but got there in the end. Very easy to cut to size.
Great strap, less ideal spring bars
First of all, the quality and comfort of the strap is perfect! no doubt!
But the spring bars are very cheap, and either broke or did not fit the strap / watch perfectly, i luckily had extra normal spring bars laying around, so it all worked out!