---
Add-on
extras
Single Prong Spring Bar Tool - Advanced
+$15.00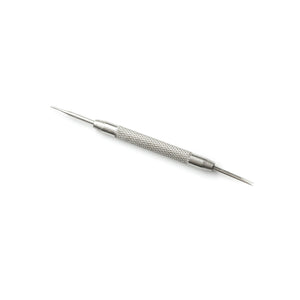 extras
Single Prong Spring Bar Tool - Basic
+$3.00
---
Chat with us now
If you're here, we know you're hooked on our Rubber CTS straps. We've got choices for you to pair them with different watch case materials! 
The CTS Deployant Clasp comes in 2 different metals (Steel 316L and Titanium Grade 2), a total of 6 different colours and finishing, and in 2 widths (16mm and 18mm). Weight difference between the two different metals:
Specifications

Gunmetal Titanium, 16mm: 10.0g
Silver Steel, 16mm: 13.7g

Note: These clasps are designed for exclusive use with our Rubber CTS Straps and do not fit any other straps, including our regular selection. 

Our Rubber CTS Straps are tapered (for example, 20-16). If you want to purchase the deployant clasp for your strap, make sure you purchase the tapered width (16mm), and not the lug width (20mm). If you are unsure, drop us a message and we'll be glad to help out.


For ease of installation, you may also want to consider a spring bar tool to help you swap out the clasps.